Isabelle F. Peschard and Bas C. van Fraassen
SYLLABUS
The general topic of this seminar is the practice of modeling in the sciences. Philosophers of science have traditionally been interested especially in general theories, but lately the attention has shifted mainly to models, how models are constructed, how they relate to theories on the one hand and to the studied natural phenomena on the other. We will engage the controversies in this subject with reference to two main examples: the double helix model of DNA, and the atomic model developed in 19th century science.
We will invite class presentations: there will be lecture material and associated readings available electronically on all of the following topics.
This syllabus is in progress; more details and links will be added bye and bye.
---
CLICK HERE TO SEE SAMPLES OF MIDTERM PAPERS AND COMMENTS
Aug 27. SESSION 1. GENERAL INTRODUCTION
An overview of topics and issues to be taken up. An introduction, with examples, to the use of models in the sciences and to the varying philosophical views on what models are and how they play a role in scientific practice.
Philosophy of science itself went through some revolutionary changes during the twentieth century, reflected in changing views of models and modeling, beginning with the 'received view' that regarded models as heuristic devices to aid theorizing, to the 'semantic view' that regards a theory itself as the presentation of a range of models, followed by the more recent approach to models as 'mediators' and instruments of exploration.
Assigned Reading:
Introduction to the book Models as Mediators
---
Sept. 3 SESSION 2. OVERVIEW: PHILOSOPHICAL LITERATURE ON MODELS
Topics:
Discussion of models used in science tends to look in two directions: a model may or may not instantiate a given theory, and a model may or may not present a good representation of a studied phenomenon. If it instantiates a theory, it is called a model of that theory; if it represents a phenomenon then it is called a model of that phenomenon -- note the ambiguity in that "of" which is used to denote two very different relations. Some of the philosophical literature focuses almost entirely on the first relationship, and some almost exclusively on the second. The readings offer a taxonomy of philosophical views on models and modeling
Assigned Reading:
A scientist surveys models in his field (1964)

Ronald Giere on models and theories -- selection from his book Explaining Science

PaulTeller, 'Twilight of the Perfect Model Model' -- Teller writes "characterizing our efforts to describe nature as aimed at producing a perfect model [one that represents with perfect precision and accuracy] is itself a model of the human knowledge-gathering enterprise." He calls that the "Perfect Model Model", and argues that it is a mistaken idea about science, knowledge, and modeling.

Additional Reading:

R.I.G Hughes (1996), "Models and Representation" A classic on the representational role of models and a criticism of Giere's notion of similarity (the sort of criticism Teller is arguing against in the 'Twilight...'
Margaret Morrison (2007), "Where have all the theories gone?" A view on the relation between models and theories in the line of Giere's.
For a thorough criticism of Giere's and van Fraassen's views see
Roman Frigg, "Scientific Representation and the Semantic View of Theories", Theoria 55, 2006, 49-65 also available at http://www.romanfrigg.org/writings.htm (the problem of similarity is only addressed in section 8 but most of the criticisms addressed to the notion of isomorphism in the previous sections are meant to apply as well to the notion of similarity.
---
Sept. 10 SESSION 3. PHILOSOPHERS SPEAK ABOUT THE DNA STORY
Topics:
Ronald Giere tells the story of the double helix model of DNA in a way that fits well into his views on models and theories. Next week we will look at the scientists' story about the same episode, but meanwhile we can approach it so as to highlight how questions on models now go in two directions:
- the relation between models and the world
- the relation between models and theories
- the double helix model of DNA: is it what Weisberg calls a 'concrete' model?
Assigned Reading:
Ronald Giere on DNA -- selection from his book Understanding Scientific Reasoning

Ronald Giere on models and theories -- second selection from the same chapter of Explaining Science

Michael Weisberg, "Models for Modeling": we will only discuss the parts 1, 2 and 3.
---
Sept. 17 SESSION 4. THE DNA MOVIE & DISCUSSION OF SCIENTIFIC METHOD
We will watch a movie about the construction of the double helix model of DNA, and discuss how the scientists' practice relates to traditional ideas about scientific method
Topics:
Just what is the 'scientific method'? Francis Bacon wrote about the methods followed in his time:

Those who have practiced the sciences have been either empiricists or dogmatists. The empiricists, like the ants, merely collect and use: the rationalists, like spiders, spin webs out of themselves. But the way of the bee lies in between: she gathers materials from the flowers of the garden and the field and then by her own powers transforms and digests them; and the real work of [science] is similar.

It has been suggested that Watson follows HD method while Franklin sticks to INDUCTION: does that accord with their actual practice?
Assigned Reading:
Thomas Nickles, "Truth or Consequences? Generative versus Consequential Justification in Science"

HD: the hypothetico-deductive method
Suggestions for further reading about induction, the hypothetico-deductive method:
---
Sept. 24 SESSION 5. THE SEMANTIC VIEW, AND SOME OF ITS CRITICS
Topics:
In the overview of the literature by Morgan and Morrison, the semantic view was presented as replacing the earlier 'received view' of science, and itself surpassed by the 'models as mediators' view. Here we will begin with an analysis of the critique focused on the representational function of models, by recent writers on models and modeling.
Assigned Reading:
~ "Theories and Models" (BvF)

~ Synopsis of Part One of Martin Thomson-Jones, "Models and the Semantic View"
(Note: the entire paper is available on his website)

~ Mauricio Suarez, "Scientific Representation: against similarity and isomorphism"

~ Marcel Boumans' critique: his "Built-in Justification" (in Models as Mediators)
---
Oct. 1 SESSION 6. THE SEMANTIC VIEW, AND SOME OF ITS CRITICS, continued
Topics:
Some of the criticisms of the semantic view
» attribute to it a misleading view of theories, as having a 'belly full of models' to be drawn upon
» contrast it with a constructive view of models and modeling
Question: what exactly are the agreements and disagreements between these critics? Teller seems to align himself with both Cartwright and Giere, but Cartwright offers a critique jointly with Suarez and Suarez speaks against Giere, while in his own writings Giere sees himself as very close to Cartwright!
Question: Rouse on Cartwright and on practice: what is the problem he raises for Cartwright?
Question: has Cartwright moved, since her early book How the Laws of Physics Lie, towards a conception of theories as saying nothing at all, hence not lying?
Assigned Reading:
Cartwright, Nancy The Dappled World. Cambridge University Press, 1999. pp. 23-34.

Giere, Ronald Models, Metaphysics, and Methodology -- a paper about Cartwright's philosophy of science
---
---
Oct. 15 SESSION 8. ANALOGY AND ABSTRACTION
Topics:
Analogies are widely used in science education, but also in scientific practice, design of experiments, interpretation of experimental results, and in theoretical explanations. The analogies employed range from (vague) metaphors to analogies based upon precisely defined mathematical similarities in the laws governing different kinds of systems or in their structure.

» General discussion: what is analogy?
» kinds of analogy
object to object (atom to solar system)
model to model (atomic model to billiard ball model)
areas of theory
The work of 19th century physicist James Clerk Maxwell provides some famous and often discussed instances of analogy in science; for example:

The laws of the conduction of heat in uniform media appear at first sight among the most different in their physical relations from those relating to [gravitational] attractions. The quantities which enter into them are temperature, flow of heat, conductivity. The word force is foreign to the subject. Yet we find that the mathematical laws of the uniform motion of heat in homogeneous media are identical in form with those of attractions varying inversely as the square of the distance. We have only to substitute source of heat for centre of attraction, flow of heat for accelerating effect of attraction at any point, and temperature for potential, and the solution of a problem in attractions is transformed into that of a problem in heat.
On Abstraction: "Well-known equations with clear physical meaning are used to elucidate two different interpretations of mathematical abstraction: enrichment and subtraction. A puzzle is used to motivate the difference: is Newton's second law concrete or abstract? That is, is it phenomenological or fundamental? According to the theory-based perspective in the philosophy of science, abstraction is enrichment and F = ma is concrete and phenomenological. In contrast, the practice-based perspective argues that abstraction is subtraction and that the law is abstract and fundamental. But how can the same law be both concrete and abstract?" (Rasmus Winther, UCSC)
Assigned Reading:
Rasmus Winther, Two Forms of Mathematical Abstraction

Mary Hesse, The Role of Models in Scientific Theory
Suggestion for further reading:
Mary Hesse, "Models in Physics" -- this longer paper goes into more detail about the concept of analogy
---
Oct. 22 SESSION 9. PROBLEM OF EMPIRICAL ADEQUACY/EQUIVALENCE
Topics:
Accounts of scientific practice emphasize empirical testing as a central feature. In the 'received view' of science developed by the logical positivist and logical empiricist philosophers of science, scientific theories were said to be 'essentially the same' (or even, the same in cognitive content) if they are empirically equivalent , that is, if empirical testing could not possibly yield an advantage of one over the other.
But this view also identified a theory with a set of sentences (its axioms and theorems) in a specially designed language. That language would contain familiar terms applicable on the basis of observation ('observation terms'), as well as the theoretical terms introduced in that science. It seemed then that empirical equivalence must amount to: having the same theorems in which only observation terms occur.
But at this point the 'received view' ran into severe difficulties.
Assigned Reading:
SYNOPSIS OF Michael Gardner, "The Unintelligibility of 'Observational Equivalence'"
(the entire paper is found at pp 104-116 of PSA 1976.)
---
Oct. 29 SESSION 10. THE PROBLEM SOLVED: SEMANTIC APPROACH
Topics:
(1) On the semantic approach or 'semantic view of theories', which replaced the 'received view', empirical adequacy and empirical equivalence of theories must be explained in terms of their models -- specifically, of the phenomena that can be accommodated / represented by their models. The critique in the preceding section receives here the response that the semantic approach gets us out of those difficulties.
Although the semantic approach can yield an adequate concept of empirical equivalence and empirical adequacy, doesn't the critique still hold about the superficial/abstract level of this consideration of models?
How valuable is the promissory note, that the semantic approach has room for questions about theories and models that go beyond the traditional ones about truth and evidence?
(2) Starting on our study of mechanical models, Professor Anne Krause (Mathematics, SFSU)will discuss the problems of modeling granular flow. See link below

Assigned Reading:
Some prefatory notes (BvF)

Selection on empirical adequacy from Muller & van Fraassen, "How to talk about unobservables"
(The entire paper is found in Analysis 68 (2008), 197–205.)

For the presentation on granular flow modeling:

The Physics of Granular Materials

or the shorter overview:
Dry Sand, Wet Sand: digging into the physics of sandpiles"
---
Nov. 5 SESSION 11. ATOMIC MODEL IN 19TH CENTURY 1: CHEMISTRY
Topics:
In order to develop the semantic approach in the light of new scholarship on modeling in scientific practice, we shall examine a century long development of atomic models in chemistry and physics, especially for the behavior of gases..
The models in this period (ending with Jean Perrin's famous experiments on Brownian motion in 1908) are all 'classical', sometimes called, a bit condescendingly and not very accurately, 'billiard ball models'.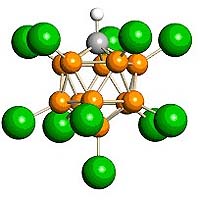 A model of molecular structure used in science teaching today is not so different from those of the early 19th century.
Here is the Carborane molecule, part of the world's strongest acid. Atom color code: orange = boron, gray = carbon, green = chlorine, white = hydrogen.
Assigned Reading:
Chapter 3 of Peter Dear, The Intelligibility of Nature

What could the laws of mechanics really be? (Boutroux, 1895)

Outline of 19th Cent. Atomic Theory, Part One
---
Nov. 12 SESSION 12. ATOMIC MODEL IN 19TH CENTURY 2: HEAT & MOTION
Topics:
Almost simultaneously with the advent of atomism in chemistry, physicists were developing the kinetic theory, according to which heat and temperature are characteristics of systems consisting of particles, and definable entirely in mechanical terms.
Assigned Reading:
Outline of 19th Cent. Atomic Theory, Part Two

For a quick look at the basic kinetic model used today in science teaching, click on Molecular model for an ideal gas or on Gas laws model

Henri Poincare´ on contingency and determinism

A look back: the Cartesians and the Newtonians
Further Reading:

A philosopher criticizes the kinetic theory (Stallo 1882)
---
Nov. 19 SESSION 13. PERRIN: AS TREATED BY PHILOSOPHERS SO FAR
Topics:
There is a bit of conventional wisdom often recounted in philosophy of science: that until the early 20th century there was insufficient evidence to establish the reality of atoms and molecules, but then Perrin's experimental results on Brownian motion convinced the scientific community to believe that they are real.
On this view, the main question for philosophy of science is one of legitimation: how we can understand Perrin's work as epistemically legitimating the conclusion drawn from it, that is, the reality of atoms and molecules. This question of legitimation is addressed by Wesley Salmon, Clark Glymour, and Peter Achinstein, with different answers, none of them without its problems.
Assigned Reading:
Poincare´ and the Boutroux Circle

Peter Achinstein, The Book of Evidence, Chapter 12 (Selection) Note: we will take up only sections 1-3, 5, 7, 8, 10.
---
Dec. 3 SESSION 14. ANOTHER LOOK: WHAT EXACTLY WAS MISSING, AND WHAT DID PERRIN DO?
Topics:
Hermann Weyl, and following him Clark Glymour, introduced concepts that relate a science, viewed as engaged in representing phenomena by the construction of models, to its empirical domain of application. In this light, we can understand some earlier philosophical debates about the laws of mechanics -- as introduced by Newton. Perrin's work can then be seen as the continuation and completion of a century-long effort to amend and extend the atomic theory so as to give it possibility of empirical grounding.
Assigned Reading:
Clark Glymour, Theory and Evidence -- selection
---
Dec. 10 SESSION 15.
<! end of main table>
---
<! end of body>